DEEPEND | RESTORE
Dr. Tracey Sutton (Lead Investigator), along with 11 other Principle Investigators, has recently received funding to lead a deep-sea pelagic research project in conjunction with the National Oceanic and Atmospheric Administration (NOAA) RESTORE Science Program. The research team will investigate the trends and drivers of pelagic community structure and abundance, from the sea surface to ~ 1 mile deep (1500 m), in the north central Gulf of Mexico. The project will run from 2019 to 2024, with the possibility of extended funding to take the project to 2029. One of the project's main aims is to identify long-term trends in fish, shrimp, and squid abundance, and determine how observed trends relate to environmental changes and human pressure (e.g., pollution). The ultimate goal of the project is to provide information that can be used by resource managers to protect the natural resources of the Gulf. Sampling (with midwater nets and acoustics) begins in the Gulf of Mexico this August (COVID safety permitting) aboard the University of Southern Mississippi research vessel Point Sur.
Photo by Rosanna Milligan—Dr. Tracey Sutton retrieving the MOCNESS on the back deck of the R/V Point Sur.
INTO THE DEEP Book Published
The newly published book Into the Deep: Science, Technology, and the Quest to Protect the Ocean, by Christy Peterson, demonstrates the ways in which researchers utilize technology to understand and mitigate the harmful effects of human activities on the oceans. The book is divided into two sections: the first section, The Physical Ocean, addresses climate change, sea level rise, ocean mapping, global circulation, and hypoxia, while the second section, The Living Ocean, discusses specific organisms, their habitats, and their key roles in the marine environment. These topics include: phytoplankton, zooplankton, hydrothermal vents, coral reefs, ocean acidification, depleted fish populations, jellyfish, the deep-sea fauna, diel vertical migration, blue whales, detritus, the ocean carbon cycle, and computer modeling for projecting/predicting the future state of the ocean.
Each chapter includes biographies from several scientists from around the world, including DEEPEND's Director, Dr. Tracey Sutton, and Research Associate, Nina Pruzinsky. The DEEPEND Consortium's research is highlighted in Chapter 10, entitled Life in the Twilight Zone. The open-ocean environment, diel vertical migration, food webs, and deep-sea sampling technology are discussed in this chapter.
Into the Deep targets students in Grades 5-8 and is highly recommended for students wishing to pursue careers in science.
Release date: April 7, 2020
Frontiers in Marine Science: Special Edition
A Special Issue of Frontiers in Marine Science is being published about the results of DEEPEND's research over the past five years. The special issue will be titled: Deep Pelagic Ecosystem Dynamics in a Highly Impacted Water Column: The Gulf of Mexico After Deepwater Horizon. The special edition will begin with a description of DEEPEND's aims, approaches, and rationale for studying the patterns and processes of the oceanic Gulf of Mexico in relation to the Deepwater Horizon oil spill and then followed by a methodology paper. The remaining topics include: pelagic community abundance and distribution, time-series analysis, environmental drivers of ecosystem structure, and trophic interactions. Research papers also focus on biodiversity, connectivity, behavior, diel vertical migration, carbon flux, the biological pump, anthropogenic impact, and the epipelagic zone as nursery habitat for both shallow- and deep-living taxa.
Currently, there are nine publications available online, with a total of 16 papers to be published this year.
Keep checking the Frontiers website to see the additional papers that will be published!
10 years after the Deepwater Horizon oil spill
Today (April 20, 2020) marks the 10th year since the Deepwater Horizon oil spill occurred in the Gulf of Mexico. Approximately 5 million barrels of hydrocarbons (oil) spilled into the Gulf for 87 days following the explosion, and since then, DEEPEND (along with several other consortia) have been researching the effects that the oil spill had on the Gulf's entire ecosystem. Oil reached the seafloor, the open-ocean water column, coastal areas, continental shelf regions, and even was found in marshes and estuaries. "It was an entire Gulf of Mexico-wide event," Dr. Tracey Sutton said in an interview with Oceana.
Often, people remember the oil that was visible at the surface; however, it's important to know that 100% of the oil occurred within the water column and affected life throughout the entire ecosystem, especially in the poorly-studied deep pelagic environment ( > 200 m depth) where the Macondo wellhead broke (~1500 m depth).
"As far as we know, the actual impact of the spill is not over yet," Dr. Tracey Sutton explained in Oceana's interview.
In another interview with the Independent, Dr. Sutton stated, "In 2017, we were still finding oil contaminants in the eggs [of deep-sea organisms] above levels known to be sublethal for animals. We also saw an overall decline in animal numbers."
With industry drilling deeper for resources, the risk of another spill occurring increases. Dr. Sutton told the Independent, "another deepwater spill is still very much a real possibility."
Photo by: U.S. Coast Guard—Reuters/Landov
Grad Student Slayden Knows Age is More Than a Number for Oil-Exposed Deep-Sea Fishes
The DEEPEND Consortium's master's student/Graduate Research Assistant, Natalie Slayden, was named a GOMRI scholar at the beginning of this year and her work is now featured on the GOMRI website:
"The ocean's deep-pelagic ecosystem is the largest and least understood habitat on Earth. In the Gulf of Mexico, it was the largest ecosystem affected by the Deepwater Horizon incident. Because there was very limited pre-spill data about deep-pelagic organisms' biodiversity, abundance, and distribution, it is difficult to determine how oiling may have affected different deep-sea species.
Information about the longevity and age at reproduction of key Gulf of Mexico deep-sea fauna, such as lanternfish or fangtooths, is crucial to determine their vulnerability and resilience to disturbances such as oil spills. However, the depths at which these organisms live and the challenges involved with raising them in captivity or tagging them in the wild make collecting this data difficult.
Natalie Slayden uses ear stones, called otoliths, collected from fish living in Deepwater Horizon-affected waters to study the age and growth of nine Gulf of Mexico deep-sea fish species. Her research can be used to estimate the lifespan and age at which these deep-sea fishes reproduce to determine how quickly a potentially compromised assemblage might be replaced following an environmental disturbance.
Natalie is a master's student with Nova Southeastern University's Department of Marine and Environmental Sciences and a GoMRI Scholar with the Deep-Pelagic Nekton Dynamics of the Gulf of Mexico (DEEPEND) Consortium. The GoMRI community embraces bright and dedicated students like Natalie Slayden and their important contributions.
The GoMRI Scholars Program recognizes graduate students whose work focuses on GoMRI-funded projects and builds community for the next generation of ocean science professionals."
Congratulations Natalie from the entire DEEPEND team!!
DEEPEND at the Gulf of Mexico Oil Spill & Ecosystem Science Conference
DEEPEND will be heading to the Gulf of Mexico Oil Spill & Ecosystem Science Conference from February 3-6, 2020, in Tampa, FL. We will be represented by 18 talks and 6 posters. Our team will be presenting data on a wide range of topics, such as: faunal trends and baselines, drivers of pelagic ecosystems, indicators of petrogenic contamination, faunal inventories, open-ocean restoration, and education and outreach. We also have three PIs chairing sessions: Dr. Tracey Sutton (Session 2), Dr. Rosanna Milligan (Session 11), and Dr. Isabel Romero (Session 20). Come and learn more about our research! Check out our presentation list below. Hope to see you there!
Dr. Tracey Sutton Awarded the 2019 NSU Provost's Research and Scholarship Award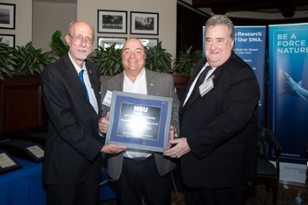 For the second time in NSU history, there were two Provost's Research and Scholarship Award winners. Nova Southeastern University (NSU) Executive Vice President and Interim Provost Ron Chenail, Ph.D., presented Mariana Morris, Ph.D., and Tracey Sutton, Ph.D each with the 9th Annual Provost's Research and Scholarship Award.
The purpose of the award is to recognize a faculty member who has demonstrated significant achievement in support of NSU's mission to foster scholarship, intellectual inquiry, and academic excellence. Research and scholarship are two of NSU's eight core values, and excellence in these areas enhances education, patient care, and public service, and develops superior scholarship.
Dr. Sutton's award is a featured story on the GoMRI website
Deepesh Tourani Thesis Defense - Inferred Function and Dynamics of Microbial Communities from Northern Gulf of Mexico
  
Deepesh Tourani
As part of the DEEPEND Consortium, our laboratory has been characterizing the microbial community composition and structure in the northern Gulf of Mexico (NGoM) pelagic waters using modern molecular ecology methods. We had previously sequenced a large cache of 16S rRNA gene data, which included 466 samples from two cruises in 2016 (May: DP03, August: DP04). To enhance taxonomic identifications, Mr. Tourani's MS thesis in Jose Lopez's laboratory at Nova Southeastern University has taken the same baseline 16S data and transformed it to infer the potential  functions of the midwater microbiomes across time and space. The Phylogenetic Investigation of Communities by Reconstruction of Unobserved States (PICRUSt) approach was used for predicting biomolecular function based on the KEGG metabolic database. Strong depth stratification of metabolic function was observed (p<0.001), with a major shift in function between euphotic zone and aphotic zone, associated with a major differential abundance of photosynthetic functional signatures. Temporal analyses showed photosynthetic primary productivity was significantly different across season but not year, which may be attributed to high seasonal outflow of the Mississippi river.